News
The 1st Mini Bottomless Brunch Festival 2023, London
by Kasie Maunders on Feb 28, 2023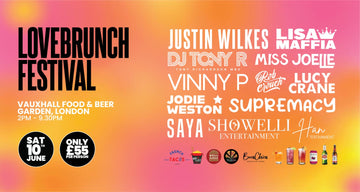 Join us for the 1st Mini Bottomless Brunch Festival 2023 in London this summer!
The Lovebrunch Festival, Saturday 10th June 2023, Vauxhall Food & Beer Garden.
Who are lovebrunch?
THE NO.1 PARTY BOTTOMLESS BRUNCH DESTINATION IN LONDON
We was bored of bottomless mimosas/bloody marys and eggs benedict/pancakes with not much going on.
So.. we created Lovebrunch. An affordable, lively party brunch that offers a wide variety of food, even for the fussy eaters - WE GOT YOU! We ensure our drinks include cocktails, prosecco and beer to include variety. We are for the people.
Between the team, we have experience in Marketing, Graphic Design, Social Media, Event Management and of course.. brunching! This makes the perfect combo for London's BEST brunch experience.
Do you love brunching and festivals?
When you combine your two favourite things to do in the summer, what do you get? THE LOVEBRUNCH FESTIVAL 2023! If you class yourself as a top bruncher, then you need to stop what you are doing, gather up your besties and head down to Vauxhall Food & Beer Garden on Saturday 10th June. 
We have teamed up with Vauxhall Food & Beer Garden who are the no.1 party venue with a large outdoor garden area and indoor clubs. We party in the garden from 2-5pm and head over to a spectacular club 5-9.30pm to ramp things up!
What's included in the ticket? 
For only £55 per person, you get to spend the whole day with us!
Tickets include x1 food token, 60 min bottomless drinks, DJs, performers, drag host, 2 arenas & a whole day of fun from 2-9.30pm.
Food token includes authentic street food vendors of your choice including:
French Tacos
Win & Lilly Oriental
Wagyu Burger
Pizza Sorrento
Boca Chica
60 minutes of flavour bursting bottomless cocktails, cider and beer:
Sex on the beach
Woo woo
Rum punch
Rekorderlig cider
Stella
Budweiser
Who is on the line-up? 
We decided to give the full LOVEBRUNCH EXPERIENCE to this festival. We have fused together our most loved DJs and special guests, along with some new faces to create the ultimate brunch festival line-up. Expect to see:
Justin Wilkes 
Award winning broadcaster & Club DJ on Kisstory 
Lisa Maffia
From one of the biggest UKG groups So Solid Crew
Tony R MBE
Huge 80's soul DJ from Soultown
Jodie Weston
Multi-genre DJ, Radio Presenter on Select FM
Saya
DJ and Producer, Radio Host on Centreforce Radio 88.3
Rob Crouch
DJ and Brand Director
Lucy Crane
DJ and Influencer 
Vinny P
DJ 
Supremacy
DJ
Miss Joelle 
Drag Artist and Entertainer
Showelli Entertainment
Exclusive and Bespoke Performers and Entertainers - seen at Skinny Kitchen
Hantertainment
Performers and Entertainers
How do I book tickets? 
We only have limited tickets for this event and they are selling like hotcakes! You know what to do... book now! 
SEE YOU THERE!